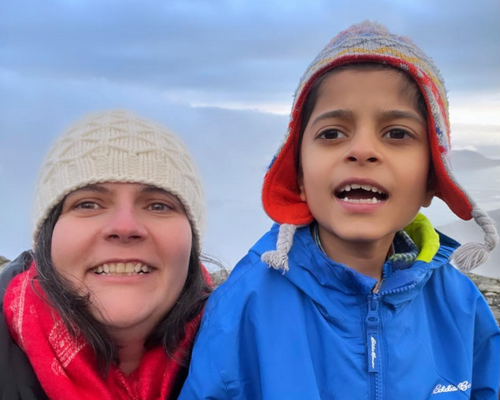 Embracing the puzzle of rare diseases: reflections on non-profit leadership and service
Special Message to CCDS Community from Former ACD Board Chair Laura Trutoiu
When Rohan was diagnosed with Creatine Transporter Deficiency, or CTD, in June of 2017, my world was shattered. I was told that the odds were not in our favor. Rohan had zero chance to live an independent life, might never talk, and was at high risk of seizures and countless other challenges. Our dreams for his bright future turned to dust and were replaced with fear of the unknown and anger at the universe. Luckily, anger was a catalyst for action: I started searching for solutions.
In my day to day life I solve technology and people puzzles. With my husband and friends I like solving puzzles for fun. So I approached creatine deficiencies with the same mindset: as a puzzle to be solved. I threw myself into finding the latest science and soon stepped up as the director of research and more recently as board president at the Association for Creatine Deficiencies (ACD).
Puzzle solving is a particularly apt metaphor for this blog post because as rare disease parents we all know what it means to solve countless puzzles every day – from navigating behavior challenges at home to figuring out IEP goals for school and scheduling in a few extra speech therapy sessions on weekends. The ACD does the same, but on a larger scale – how do we make life better for all kiddos impacted by CCDS, through treatments, cures, and building a community of families and researchers. Although we are not quite there in solving the creatine deficiency puzzle and getting a CTD treatment, we've made a lot of progress as a community.
This month, after more than 4 years of service, I am retiring from my leadership role at the ACD. While I will no longer be a board member, as a parent I am part of the community. Reflecting back, I think of my ACD contribution as starting to fill in the edges of the CCDS puzzle, sorting out pieces, and shaping up a plan of attack. We've assembled resources, we have a general strategy, an entire community helping, and lots of work left to do.
I am proud of the close to $1 million in grants I brought in that have propelled our research and organization forward from our fledgling $50,000 budget in 2018. And from being the principal investigator on grants and fundraising to connecting our research community, this work has been fulfilling. Both the Chan Zuckerberg Initiative Rare as One grant and the PCORI PARENTS grant have allowed us to build capacity and make critical advancements in our research efforts and allowed us to hire dedicated staff like an executive director to oversee day-to-day operations full-time.
The CreatineInfo patient registry is our puzzle piece printing machine: every survey you take and answer you provide turns into puzzle pieces to fill in the big picture and help us get to treatments. As an example, the Patient Meaningful Outcomes survey we developed and launched in 2022 is going to set the direction for upcoming research priorities and investigations from communication to focus, attention, and behaviors. I look forward to filling out more surveys as a parent in 2023 rather than looking at questions as a principal investigator and pestering everyone to sign up (you should sign up though, otherwise remember your story is missing from the puzzle).
So, with so many things going well, why am I stepping down? The easy answer is that I want to have more time for other things: for myself, my family, my day job, and my friends. Serving on a non-profit board can be all engrossing and many other things get dropped. The more difficult truth is that I am burnt out, and I need to focus on my family and myself. About a year ago Rohan started having seizures, and it has left me feeling helpless again. While part of the ACD mission is to find a way to prevent seizures for all CCDS patients, what my son needs right now is for me to be more present with him.
I believe that nonprofit organizations benefit from new perspectives (yep, there's a puzzle analogy lurking again), and while I could continue serving as a board member for a few more years doing less and less, I want to live by my values and make room for new leaders to step up and take the organization to new heights.
My ultimate hope for the ACD has always been that one day, we will make ourselves obsolete because treatments for CCDS are easily accessible and children are diagnosed at birth. No other family should have to go through what our CCDS families have gone through, from the countless appointments to get a diagnosis to being told that there is nothing we can do, to seeing our children suffer through seizures and not being able to communicate. We've made progress, supporting the ACD efforts means there is something we can do about it. Getting GAMT deficiency on the RUSP, another big community effort started before my time, is a big step towards that vision.
I've had one superpower along the way as a reluctant patient advocate: I was lucky enough to find other puzzlers to step up. While I'll never be grateful for ending up in the rare disease world, I am grateful to have met other passionate folks who, like me, dove in head first and stepped up as volunteers and leaders in the ACD. Similarly, I've met some amazing, dedicated researchers who changed the course of this condition. The list is too long to bring up here and the message is clear: rare disease is all about teamwork and community. While this post is written from my perspective, keep in mind this work would not be possible without a team behind it.
CTD is not one of those "lucky" diseases that finds a treatment as soon as it's discovered. But usually where luck doesn't pay off, hard work and brute force does. Just like I said in the 2021 conference, our best bet is to try many things fast, a strategy we've fondly dubbed "many eggs in many baskets." The baskets here are different treatment avenues and the eggs are projects in various labs related to that topic. For example, a big basket for us is gene therapy and we have a few labs we are supporting along the way.
Similarly, some of our ACD fellows are working on drug repurposing, another treatment avenue. A back of the envelope estimate is that if we get $5 million in research our odds to get to a clinical trial improve (at least other orgs have done it). With a dedicated team and the support of our amazing community, we can fund $5 million in research in the next 5 years. Our recently funded CCDS Research Center is bound to hatch some eggs as well. And one of those eggs (maybe fellows we funded, groups we collaborate with, center of research working on all types of projects from drug repurposing, gene therapy, small molecules, etc) might just hatch into a miracle cure!
With Heidi as our Executive Director, Sangeetha as our Scientific Advisor, Faith, Emily, and our incredible Board of Directors, the ACD is on a good path to fill in all the CCDS puzzle pieces and get us to treatments.
You too can play a critical role in solving the CCDS puzzle: host a fundraiser, volunteer, or help us gather more puzzle pieces by filling out the CreatineInfo patient registry: creatineinfo.iamrare.org.