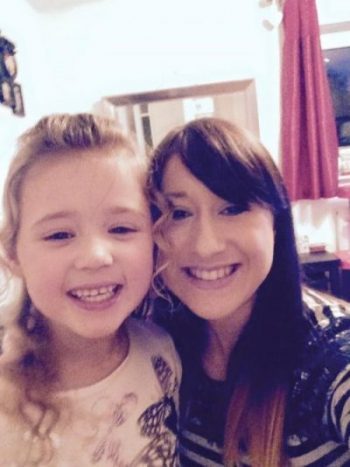 I'm Sarah and my daughter Ella is now 6 and a half. She was diagnosed with GAMT at just over 3 years old (February 2013).
Before diagnosis Ella was initially diagnosed with mitochondrial disease based on the results of an MRI in 2012. She suffered with up to 200 seizures a day (mostly myoclonic and atonic with occasional tonic-clonic's), she also has severe global developmental delay and ataxia.
Ella's first years were tough, to say the least! Every day it seemed there was another problem or worsening of her condition; watching her decline to the worst point where at, just before diagnosis, she was completely unable to walk and talk. She had lost all acquired skills and was status epilepticus most days.  Every day she had glossy eyes, no interaction or emotion from her.
Ella was diagnosed after months of going back and forth between hospitals; we were lucky. Great Ormond Street has been our saviour. Our doctor, Dr Bhatti and Dr Cleary looked me in the eyes and promised me that they would do what they could to find out what was wrong with her; Ella had a prolonged seizure at nursery which prompted our urgent referral to GOSH, we were seen that day on their urgent assessment neurological ward, they rang me and said, "take your time, whenever you're ready, get here – there will be a Dr waiting for you." And there was. Within a week we had a ECG, full bloods, MRI and lumbar puncture done under general anaesthetic.
Ella was eventually diagnosed the first child in GOSH to have ever been diagnosed with GAMT; since then I believe some older children have been diagnosed in a hospital adjacent to GOSH.
Ella was started instantly on Creatine Monohydrate, since then she's been put onto L-Ornithine. Within 6 weeks of starting treatment her seizures had dropped to about 20 a week, her eyes brightened and her awareness grew – every day we saw improvements – until this day we still continue to see copious amounts of improvement on a weekly basis!
Ella attends a severe needs school with a high ratio of staff to pupil.
Fast forward to today, and my beautiful, amazing, clever little girl is now a key member of the school sports team (gets it from me I like to think)! She swims regularly, enjoys horse riding, trampolining, she bakes regularly, can count up to 20, speaks in full sentences, understands all verbal commands, can read small words, is completely toilet trained, and is extremely independent! 
Ella doesn't have a specific diet – we restrict protein to white meat mainly and avoid a lot of milk, she is obsessed with veggies and only drinks water, but she is partial to a chocolate mousse or jelly!! And Nutella!!
It seems to be a common theme with GAMT children that she is so incredibly loving and charismatic – everybody takes to her. She's the centre of attention at every event and loves the limelight! She's cheeky, but overall – her strength and resilience never ceases to amaze me. She makes me strong.
Having been so, so poorly, and feeling in my heart I would lose her, has maybe turned out to be a blessing in disguise. Ella is my soul mate and I'm hers- I believe that we keep each other fighters. She wouldn't give up on me, through her darkest days she still managed a smile for me.
I never thought I would feel a meaningful embrace from her, there was never any emotion from her, now – when I arrive home from work I'm greeted with "Mummy!! I missed you!!" and she cuddles me close (she asks for a cuddle on my tummy) and she tells me she loves me. And because of those two sentences alone – it has made this whole journey worth it.
I would like to just say, having found the facebook GAMT parents page has made this journey so much easier, it's a lonely place being told your child has this condition – but they just can't tell you anything about it. But as parents (and experts) have come together to share information, it has been a blessing – so for all the parents involved – thank you truly, this would be much harder to do without your support!
Also a special thank you to Ella's Daddy Andy, we have kept each other going and have stood together for Ella from the start. Also my partner Brad, you've embraced Ella as your own family and we're so lucky to have your support. But most importantly my mum and dad – Nanny and Poppa – I absolutely could not have managed without you both. For everything you've given me and Ella. We owe you so much, but I know the only repayment you will ever accept is to be able to watch Ella grow, every day into a beautiful young lady. Thank you will never be enough.