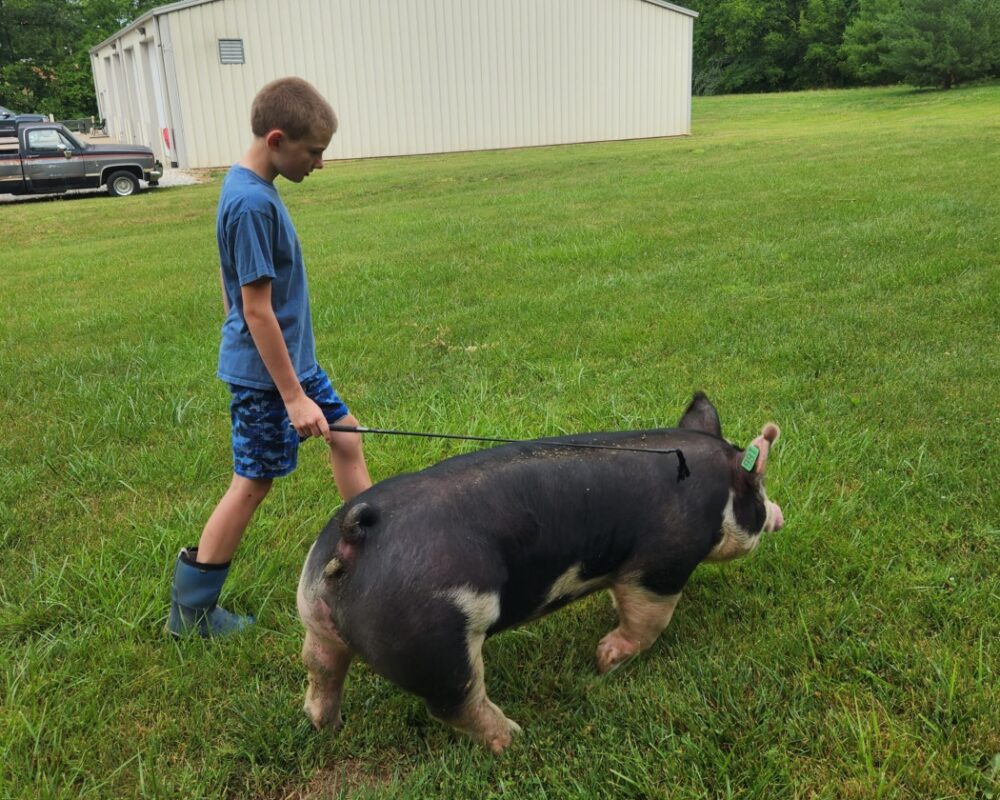 "No Limits" — Lacy
One of the hardest things about learning your child has a disability is the limits that are put on their life. The hopes and dreams you have for them change in an instant. However, once you take a moment to understand what it all means, things come into focus. The shattered pieces that you pick up and and put back together make a beautiful picture that you never would have imagined. 
Our family has always been involved with Agriculture. Jason and I both grew up on farms and have started one of our own. We had hoped that our children would continue this legacy and love animals as much as we did. When Jacob was younger he didn't want much to do with the animals. He was fine to look at them from a distance but didn't want them anywhere near him. He set a limit for himself that he would play in the dirt in one area as long as they would stay in another. Over time his area got bigger and he was allowing the animals near him. It was a gradual change but one we saw as a positive growth.
Our daughter has been showing pigs and sheep for several years. Jacob was around but very hands off. This year we added goats to the mix and spent many hours at the barn getting them ready for the shows. We noticed Jacob getting more comfortable with the animals. He was even willing to get in the pens and dump feed and brush the animals. It was something we never thought possible so we encouraged him to keep pushing through. By the middle of the summer, he was helping walk the animals around the barn. We decided to sign him up for the county pig show to see how he would do. Just before his class he got upset but when they opened the gate he walked out with his sister and showed his pig around the arena. It was an amazing sight to see how much progress he has made in a few short years. 
The next step was the Missouri State Fair. We heard there was a program for special needs kids to show a pig at a special event during the fair. It is called the NO LIMITS P.I.G. SHOW. We got Jacob signed up as soon as we could.  He was paired with an ambassador, Brant, who had a pig at the State Fair. Jacob helped to brush and wash Brant's pig. When it was time for the show they both walked into the arena with the pig. Jacob did so well. He stayed with Brant even though he had just met him a few hours before. He calmly walked that pig around. If you know Jacob, calm is not usually a word we use to describe him. They spent a few minutes in the ring and then were invited back for a special medal ceremony.  Jacob received a nice medal and shiny belt buckle. Brant received a pig brush and whip. The memories they made were priceless. 
As a parent, one of our jobs is to guide our kids to better things. I had to hold back happy tears as I watched them in the arena. It has been a big step for Jacob and a great learning experience for Lexie to help her brother. We are so happy to share our passion with our kids. We look forward to building up Jacob's confidence as we work towards a world with no limits.
All thoughts and ideas expressed in the Creatine Community Blog represent the individual blog contributor's opinions and not those of the Association for Creatine Deficiencies. The ideas expressed in the Creatine Community Blog, and any other locations on the creatineinfo.org website, should never be construed as medical advice, even if the information relates to the contributor's actual health care experiences. Individuals should always follow the instructions of their physician and make no changes to their care unless instructed to do so by their physician.