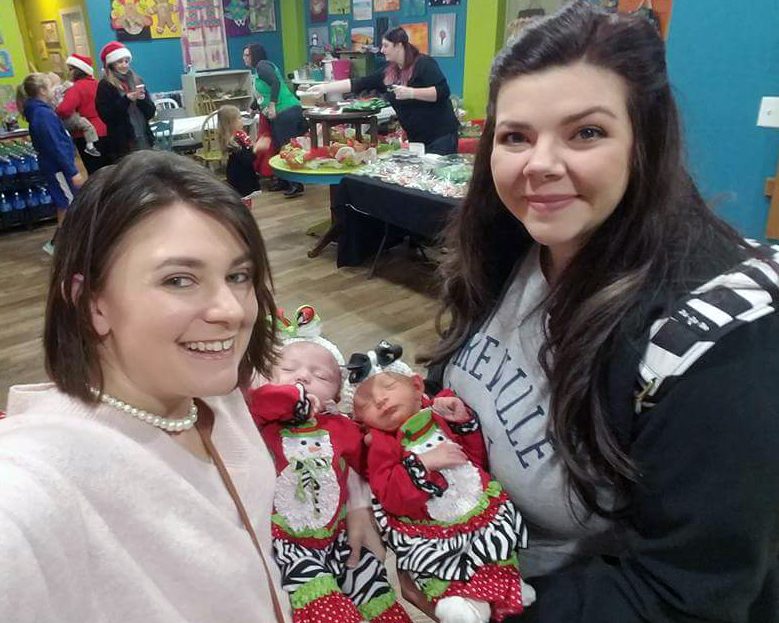 "That Friend" – Shelly
I feel like all us parents of special need kiddos have that one person who is our main go-to.  Who we all wonder why the heck they choose to be involved in our lives but are so extremely happy they stay.  This post is going to be a little different because I'm pretty much just going to shout out to our friend.  But I feel like you guys will relate because I know you guys have this Friend in your life too…Thanks for being my friend anyway.
I know there are days that being my friend sucks.  I'm either constantly worrying over my child's delays, or complaining about my frustrations.  I know I use up a lot of our time talking about Lilah, her therapy, our doctor visits, and equipment we are or will be using.  Thanks for always listening though, I hope you know how much we love you.
You have stuck with us through everything.  Been with us since literally day one.  You were in the room when Lilah was born.  Since you were her nurse I know she stressed you, and I know it stressed you even more not being able to tell me why she was shaking or was floppy.  I'm sorry to have put you through that.  Then I called you from her doctor's office when they were admitting us because they thought she had a brain stem lesion- I couldn't just sit in silence with that on my mind.  I still can't believe you offered to drive up to be with me that day.  Thanks for going with us to a doctor visit 3 hours away because I'm always afraid they are going to say something is wrong again.  You were just as shocked as I was when we found her diagnosis and discovered it came from me.  We don't have a lot of people who have been willing to stick with us, we have lost friends and even some family because with all the doctors and therapy we just don't have time.  You have always stayed though.  You have always been just a text away if I have needed you.  I wish I had the financial means to spoil you and shower you with gifts, but all I have is my friendship and love for you and your family in return.  It takes a special person to be there for a family in chaos, and I will always value your friendship.
Thank you for letting me enjoy your child.  Most people are afraid to include me on their kids' milestones,  but I have been so excited seeing Emma grow and develop!  I feel like maybe you held back a little with the walking milestone… but I also think maybe you knew it was the big milestone that hurt my heart the most to see Lilah get further and further from reaching.  Please know Tyler & I were so very excited for Emma when she started walking, we love watching this tiny human toddle around our lives.  Thank you for letting her.
Thank you for coming to me to vent about your kids' issues.  Sometimes I need my focus off our problems and to be reminded that others have things going on as well.  Thanks for nominating me to be the person who gets to go with your child to get her blood drawn (ha-ha).  It is true I've become a professional at watching kids get poked with needles!  Thanks for that trust you have in me.
Thanks for enjoying my child.  I know it's not the easiest.  You have had to watch my child fight a lot of battles, and will probably watch her fight a few more.  I know it's not easy watching her work so much harder than most to accomplish a goal, but man, isn't that a great feeling when she hits it?!  I know you truly celebrate right along with us!  Just today I sent you a picture of her standing by herself, and you were one of the only to notice how big a deal that was!  We love including you in her life, and we know she definitely loves you!
I know being the friend of a special needs child can be the worst and the best at times.  Just like I know how you kinda cringe inside when I call her special needs.  I'm sorry for all the emotional roller coasters you have had to ride with me.  I'm sorry for any time I snap about something my kid can't do.  I'm sorry if I ever make it feel like sticking around is a burden.  I promise you won't be sorry for sticking with us.  One day I'll show up at your house and Lilah will go running into your arms for a hug, and I swear that will be worth the ride.
What I guess I'm saying is… sorry our life is so messy, but thanks for being our friend anyway. We will cherish you until the end of eternity.