"Atypical Adventures: An Introduction" – Nathan
Hello again, friends! I know it has been a while since I have updated everyone on what's going on in our daily lives. Well, I will be the first to say, things have been a bit hectic this summer, but the craziness is welcome and we love the way that our lives are evolving!
So, what has changed? Perhaps it would be better to start off with what has not changed. For one, we still have loads of appointments, medical juggling, and the everyday hustle and bustle that everyone else has. We also still have a full schedule of therapies and a full docket of in-home nurses that join us on a daily basis. Now, if you think that this sounds a bit like all my other posts, you would be correct, but what has changed is that we have found something that we never knew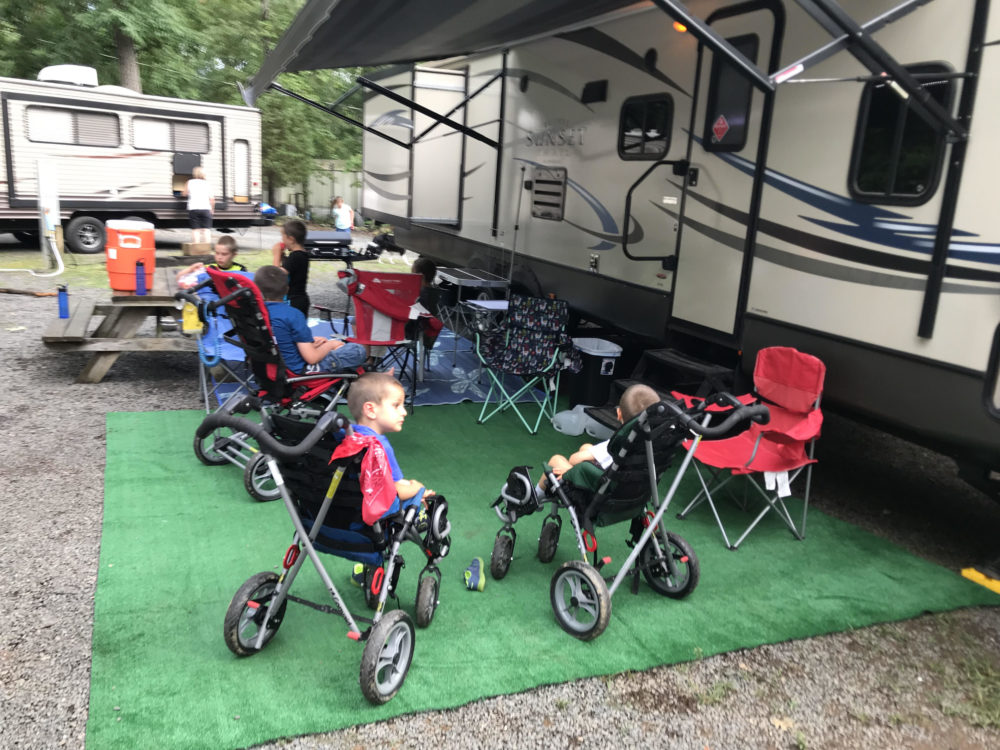 was missing. As a family, we have come together and found our adventure! This may sound a bit cliché and it may well be, but let me tell you why I personally feel like finding our adventure was a momentous occasion.
A Stacked Deck
I will be completely honest and say that before we started our own adventure, we scoured the length and width of the internet to see what others had done. What we found was a large number of amazing people who sought out and found some amazing adventures that stretched from coast to coast and beyond. While these super upbeat bloggers showed us an inspirational picture, we realized quickly that no matter how adventuress they were, they didn't share our situation. Don't get me wrong, we found a few large families who set out on adventures and we even found one or two families with exceptional kids who set out to explore, but when I reflected upon the size and situation within my own family, I almost counted us out. Now, all of this pondering and research took place when I was living by myself far away from home due to the needs of my job so our judgment may have been slightly skewed, but despite trying to come up with reasons on why we couldn't do it, Jennifer and I had already decided that this was something that we needed to do.
Planning
We are a big complex family; and big complex families, like trains or large ships, take a long time to change course or direction. We didn't fight this time requirement as we shopped for a vehicle that could haul everyone in our family, and a camper that could serve as our adventure central. After a lot of looking
and some seriously long drives, we finally kissed my Jeep goodbye and welcomed a Chevrolet Suburban 2500 into our family. Like nearly everything in our lives, this vehicle's beauty rested in the utility it would provide us. The rubber flooring meant easy cleanups, the power and weight meant that we could tow a large camper, the low miles meant it could hang around awhile, and the bare-bones configuration meant we could afford it. We made the decision to buy a vehicle that was halfway across the country based only on a few conversations and a handful of pictures. This was our first inkling that if this was going to happen, we would have to take some chances. Luckily, the Suburban was safely delivered and in exactly the condition we expected, so now we were onto our home on wheels. Again, a lot of internet-searching and video-watching led us to a particular model and even year of a used camper that we wanted. We found one in our local area, but the price wasn't exactly right and it had more damage than we wanted, so we kept looking and driving as we searched for the perfect fit. We finally found the exact model and year of the camper we wanted. It had a large bunk-room in the back, an actual bathtub, and several other features we had on our must-have list. The only problem was that the camper was six-hundred miles away and a road trip was out of the question. As with the Suburban, we looked at all the information that we had available to us and we made the best decision we could. It took a full month to get everything settled and find someone to bring us our camper, but once again, we were happy with the result yet we knew a long road was between us and our adventures.
A Measured Approach
We really wanted to jump headlong into camping, but we knew better. What we had was an awesome canvas but without adequate preparations. We knew that any attempt at camping would probably not end well. Mixed with school, surgeries, and other inconveniences, we slowly prepared both the camper and Suburban for the tasks we would ask them to perform. The suburban got the usual tires, fluids, and other maintenance items along with a completely upgraded cooling system to handle the hills and high temperatures. The camper also received a large amount of attention. The bunk room transitioned to a space that is capable of safely containing our three "Creatinies," their pumps, and their big brother to supervise. We also added some additional cooler space for medicines, rack
space for generators or bikes, and safety precautions on all cabinets, switches, and doors. All told, it took us just under a year to get everything the way we wanted it so we could set off on our first camping trip. Even with all the preparation, we knew that our learning and modification wasn't complete, but we figured it would be a safe start.
Catching Our Groove
While we are still complete and utter adventure newbies, we have successfully taken our family of eight on three different trips without a single regret. We have taken bike rides, roasted marshmallows, and made memories as a complete family. It would be easy for us as a family to accept the complicated situation we find ourselves in and rationalize our inability to travel, but we don't feel like that would be how we would thrive. We want to allow each and every one of our kids to experience a wide array of what this world has to offer them. We want to see deserts, forests, oceans, lakes, and everything in-between. We know that this is not always going to be easy or completely smooth. There will surely be challenges, setbacks, and hardships, but those are things we expect to have anyway so we might as well find our adventure in the process, regardless of how atypical that adventure may be! Stay tuned, ask questions, and find your own Atypical Adventures!