"Picturing the Future" – Beth
During the winter break, we undertook the daunting task of organizing digital photos from the past fifteen years. We take a lot of pictures, so we had over 17,000 images to move and file. As we cataloged the pictures, we reminisced about our first house, our childless days, our travels, our first pregnancy. Seeing those baby pictures of Benny and those early years brought back a flood of emotions.
I looked at the young parents holding that new baby, blissfully unaware that the future they had planned was not the future they would see. I looked at the photos of the mom and the toddler. Her hope is palpable—knowing that things weren't going as planned, but thinking that maybe it's an easy fix and the doctors just hadn't found it yet, as milestones were slipping through her fingers. We saw the photos of the hospital stays with Benny while we tried to quiet his brain from the unrelenting seizures.
We saw pictures of his painfully slow progress while his sisters and friends began to pass him physically and socially. The pictures of his sisters finding their footing in life began to take over the photo albums—their birthday parties, their sports, their accomplishments. While those days we saw in the pictures were confusing, complicated, and sometimes dark, we, nevertheless, found joy and fulfillment in them, because that was our normal and we had to adjust.
Fast forward to today and we're busy planning Benny's 14th birthday party at the end of the month. I feel like we've entered a new stage of life and, instead of grieving for the past, I'm looking forward to our future. We've had our GAMT diagnosis since 2009 and the sting of the diagnosis has become our past. It will always be part of our life, but it's become our new normal and our todays and tomorrows are now filled with all the wonderfully mundane typical things. It feels good to look ahead and not be weighed down by the past.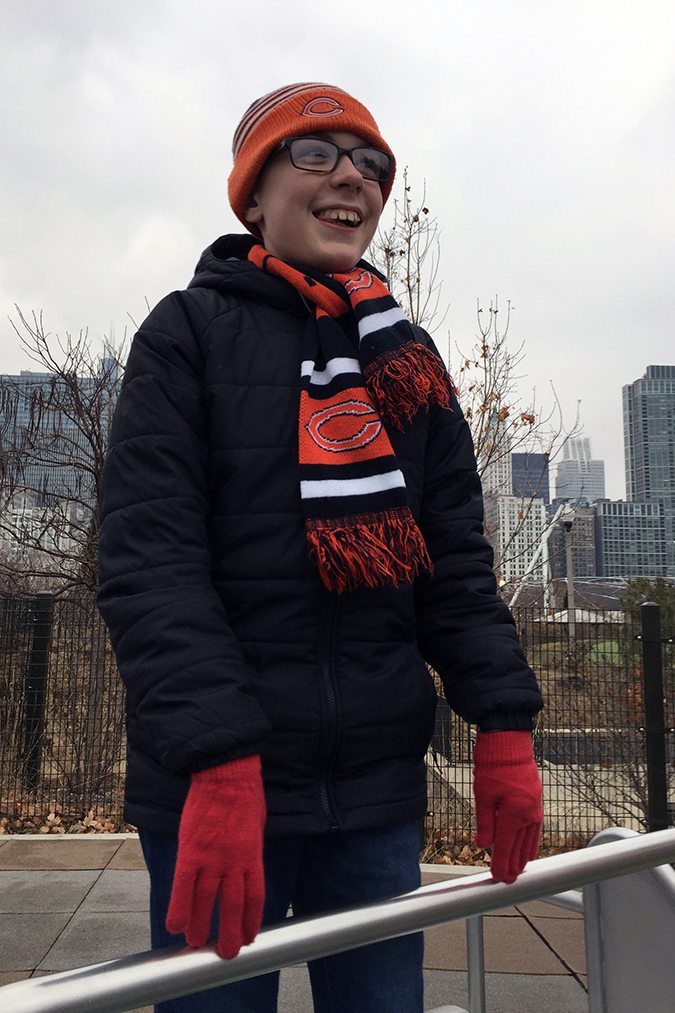 The future isn't far off and the signs are everywhere. Just this year, Benny's voice has changed, he's taller than one of his grandmas, his jeans are always two inches too short, and he's getting ready for high school and beyond. His IEP now contains ideas about his future as they try to get an idea of what kind of job he would enjoy. The excitement I have for Benny's future is just as real as the excitement I have for my girls' future.
Benny is excited about each milestone that brings him greater independence and leads him a little bit more into his future. And he's adding to this list of milestones quicker than ever. Just this year, he learned how to buckle his seatbelt, get his own breakfast (which consists of picking out a yogurt, getting a spoon, opening said yogurt and leaving the lid face-down on the counter with a trail of yogurt), get himself dressed with minimal assistance, and sing a few crackly notes of the most beautiful non-verbal-kid ballad I've ever heard. And there are so many more skills that are just on the horizon. I've said it before and I'll say it again—these milestones are hard-won, and they mean more to us than we could ever imagine. He's progressing rapidly in his own ways. He approaches his future with an innocent and unconditional love for everyone and everything and he makes our life brighter because of it. I once feared the future, but now a different, brighter one is materializing right before our eyes and I'm looking forward to it more than ever.
As I look into this future I see our daughters growing up and leaving our nest to pursue whatever moves them. And as I watch them fly away, I look back at my nest where Benny and my husband and I start an amazing journey that is just ours.
Those pictures of the past I pored over during break represent a crucial turning point in our lives, but now I'm grateful to look at the pictures we're making now and the thousands that lie ahead of us.