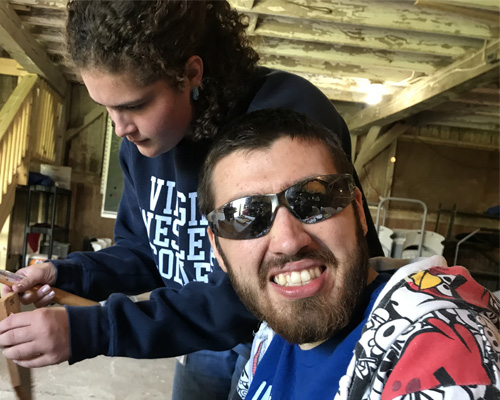 "Bye, mom" – Nancy
"Bye mom!" These were words I had longed to hear for nearly two years. Our youngest son, Sam, graduated high school in June of 2019. In October of 2019, we sold our home of 20 years in the suburbs and bought a 9-acre farm in the country. It was another step toward providing our nonprofit, Good Works Farm, a space to provide farm-based programming for individuals with special needs, like Sam.
But GWF wasn't quite ready to provide adult services yet. So Sam and I toured a couple of other local Adult DayHab programs. I had completed the paper work for Sam to attend one of them a couple of days a week when the pandemic happened and everything shut down. Sam didn't get to attend one single day there. My husband was considered an essential worker, so during the long, endless days of 2020 it was just Sam and me at the farm.
I felt blessed to be on the farm during that time. Even though we couldn't provide programming, the two of us had plenty to keep us busy. With the world shut down, we now had permission to have pajama and movie days, classical music painting days, and spend-hours-building-a-lego-city days. But after a while, the lockdown began to affect us both. Sam became very rigid in his activities and super grumpy. I found myself binge-watching Parenthood and eating too many snacks. It was time to get back to life. It seemed that we both needed routine, structure, and meaningful activities to fill our days.
By spring of 2021, our nonprofit had been approved by the Ohio Dept. of Developmental Disabilities and Ohio Medicaid to provide Waiver Services! On May 5, 2021, Good Works Farm Adult DayHab opened its doors for service with two staff and two clients, one of them being my son. It was bittersweet but it was time. He needed to get out of the house and be with people again. He needed structure and routine, and to be honest, so did I. I am glad we had that time, just the two of us, but I'm grateful he has a safe place to go each day with a group of people I trust. Bye, Sam. I love you. I hope you have a wonderful day.