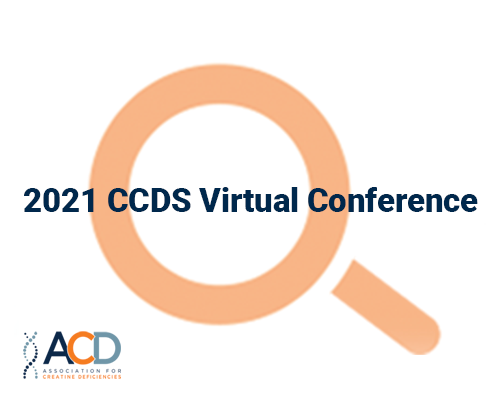 "Cerebral Creatine Deficiency Syndromes: The Road from Diagnosis to Therapies" – Erin
I think most parents of children with Creatine Transporter Deficiency (CTD), like me, are painfully aware of the statement, "CTD is not treatable." The day of my son Cadman's diagnosis (he's now 6, and was diagnosed just before his second birthday through whole exome genetic testing), there was a slight sense of relief that we finally had an answer and our diagnostic journey had come to an end, but devastation to find out that there is no treatment available for his disorder. However, I have since come to believe that there SHOULD be a treatment for CTD, and finding one is within reach, which to me means that it's worth it to hope, pray, work and fight to make that a reality. While challenging because of the need to get creatine past the blood brain barrier and into cells, and a lot of information is still needed on the function of creatine and how it is transported and used in the body, lots of progress has been made in researching these areas, and there should be a way to find a treatment that can get creatine where it needs to go for patients with creatine deficiencies.
It can be a tough pill to swallow to realize just how much work, time, energy and money needs to go into the discovery of a treatment for CTD, but I believe, from what I've learned about the research currently being conducted, that it's possible, and within reach. This is the main reason I have found the CCDS Virtual Conference (and the 2018 in-person Symposium) to be worth my time each year, even if I don't fully understand all the scientific language and presentations.
We've come a long way since 2018 when I flew to Austin, Texas, with my family for the CCDS Scientific & Patient Symposium. There I had my first real experience with the Association for Creatine Deficiencies and witnessed the power of researchers from around the world coming together to share research and ideas. I was able to connect with families and medical professionals and researchers all working toward a common goal of improving the lives and wellbeing of our loved ones affected by creatine deficiencies. While cures would be our greatest wish come true, a cure means the disease would basically disappear, and for a genetic disorder, I recognize that is not likely to happen anytime soon. However, finding an effective treatment for CTD, and better treatments for GAMT and AGAT, is a realistic goal, and I'm hopeful and confident that we are on the right path to get there.
ACD hosted the 2021 CCDS Virtual Conference in September with 28 speakers, and over 220 people registered from 23 countries. During this two-day event, the path to reaching these goals was illuminated. The theme for the conference was "Cerebral Creatine Deficiency Syndromes: The Road from Diagnosis to Therapies."
Most of the presentations were recorded and we are pleased to make these available to view and share.
Please take some time to look through the recorded videos from the 2021 CCDS Virtual Conference on YouTube. More information on the ACD's roadmap to treatments can be found in the presentation by ACD's Director of Research Laura Trutoiu, "2021 CCDS Virtual Conference Wrap Up".