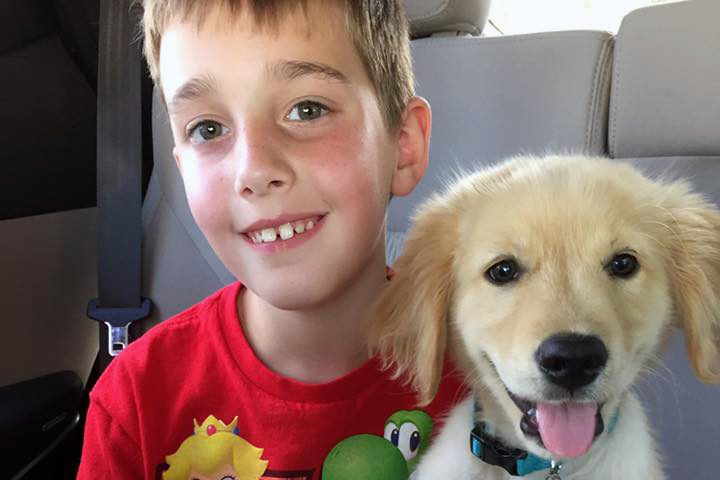 "Franco's Journey" – Lisa
This is our story and our journey that led to our son's diagnosis of CTD. It has been a long journey to say the least and now this new diagnosis takes us on a new path.
Our son Francesco (Franco for short) was born March 14, 2008. When he was born, he was perfectly healthy and he met all the milestones for sitting up, crawling and walking; however this all came to a halt when he was 17 months old.
We will never forget that day. It was Sunday, August 16, 2009, and he just seemed a little under the weather from the moment he woke up that day. He didn't eat breakfast and was very lethargic and even took an early nap. After he awoke from his nap we brought him downstairs to the living room and minutes later was having a grand mal seizure. My husband and I had never witnessed anything like this before and immediately called 911. Franco was beginning to turn blue and by the time the paramedics arrived he came out of it. He was taken by ambulance to the Children's Hospital where they ran the basic tests. The only conclusion they came to at that time was that it was febrile, even though he did not have a fever and they ended up sending him home. The next morning we checked on him at 5 a.m. he was having another seizure and we rushed him back to the hospital. They performed a CT Scan and MRI and were unable to find anything wrong. Then they performed a spinal tap and with that found he had slightly elevated white blood count (not drastically high, but high enough that he may have been fighting some sort of infection). It was then that they diagnosed him with viral encephalitis. He was admitted to the hospital and they started him on antibiotics.
It was at this point that he was at his worst. He was unable to move or speak or eat or anything. He was lifeless and our world shattered at that moment. He had seizure after seizure and the doctors had a hard time getting them under control. The doctors were unable to tell us if he would ever walk or talk again, but Franco is a strong boy and when he started getting better he ran instead of walked. Franco was in and out of the hospital continuing to get test after test including CT Scans, MRI's, EEG's, and blood work. He met with lots of specialists including a variety of neurologists, infectious disease doctors, and a genetic doctor. They were unable to come to any solid conclusion and diagnosed him with viral encephalitis which we were also told caused him to have a seizure disorder and an acquired brain injury which causes him to have the speech issues, cognitive issues, and an intellectual disability.
Seven long years later he still struggled with what we believed were the after effects of viral encephalitis including seizures, speech issues, and an intellectual disability. He also portrays autistic mannerisms, but he is not autistic as we were told many times by various specialists and therapists. Throughout the past seven years he was prescribed numerous seizure medications to help control his seizures. It was all trial and error. After many years and many drugs, the combination that seemed to help him the most was a combination of Lamictal and Topamax. Since he continued to have seizures they kept increasing the dosage of his medications. We were never a fan of Topamax because we could see it left him in a foggy state of mind. We tried to wean him off it once and noticed some improvement, but he ended up back in the hospital after his last dose so he was immediately put back on it.
The beginning of 2016 the seizures increased and after visiting his neurologist we were told we needed to increase his meds even more. It was then that we decided to get a second opinion because we could not continue to increase medication for our son that caused him such terrible side effects. We decided to meet with a neurologist at Miami Children's Hospital and our initial visit was in March 2016. In August of 2016 Franco was hospitalized in Miami so they could run their own tests from scratch including a week-long video EEG and CT Scan. He was taken off all his seizure meds at this time and started to have seizure after seizure after seizure. They were able to get enough data to end the testing early. They wanted to see if he was a candidate for surgery, but the tests were inconclusive that he would be.

So, we decided to take another route and he was put on a CBD Oil (Cannabis) Study. He started this in August 2016. When he started, he was taking ten Topamax capsules a day and nine Lamictal pills and he is currently down to two Topamax and Lamictal remains the same. We have noticed improvement with the decrease of Topamax. He has started to speak more, has been more focused, looks us in the eye now, and is looking all around healthier and doesn't appear to be dazed. His neurologist requested that we go ahead and get a DNA test in case there was something he was missing or to gather information that would be helpful to treat his seizures. My son, my husband, and I all did the blood work and at our last visit to Miami, February 24, 2017 we were told the news that shocked us. We were told he has a genetic mutation, a creatine transporter deficiency. We were completely overwhelmed by this news. We have never heard anything about this disorder before. We started researching right away and were surprised to see how much he portrays the symptoms of CTD. His neurologist recommended the creatineinfo.org website for additional information and to reach out to other parents. We are scheduled to see a genetic doctor in Miami this summer. We are still in shock of this revelation and still unsure what this all means for his future. This is just the beginning of this new journey… our new path. We will continue as we always have and do everything we can to help him progress.
Even through Franco has all these issues, he is a typical nine year old little boy. He loves to play outside and tease his sister. He loves music, bubbles, playing ball, riding his bike, cartoons and playing on his i-pad. He is full of life and loves to be silly. He attends a special needs (ungraded) Catholic School. He is on a modified curriculum and they work with him up to his potential. We continue to see progress which makes us so incredibly happy. We don't know where this new path is going to take us, but we will be with him every step of the way.